Event
Safe prayer feast and thanksgiving ceremony for company
Our managing partner, Nur' Isadora Ismail held a Yasin Reading, Tahlil and Joint Prayer on November 2019 in conjunction with the inauguration of Isadora & Associates. The ceremony was attended by several guests and led by a male religious teacher accompanied with 15 religious pupils. The program started at 7:00 PM and ended with a brief banquet at 10:00 PM. The program was held to seek the blessings of Allah SWT for the launching and journey of Isadora & Associates as well as present gratitude towards Him. Besides indirectly strengthening the bond of friendship among the staff and guests of Isadora & Associates, involvement in such events also reflects the spirit of unity and cooperation among them.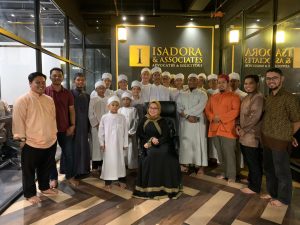 Isadora & Associates as Advisary Panel For Todak
Todak is an urban lifestyle brand that emphasize in Todak's attitude. Todak Culture Sdn Bhd was established in April 2017. They are based in Cyberjaya, Malaysia. Todak's vision is to inculcate the culture of achieving your goals despite challenges in outstandingly creative ways. Their mission is to become the top movement with the niche of games and arts, locally made in Malaysia, by Malaysian.
Todak was founded by Mr. Khairul Azlan. The company has been operating for a few years and has been producing top-notch gaming products. Such as, Todak gaming chairs, mouse and keyboard as well as gaming application. Other than making their own gaming products, they also produce their own apparel and merchandise, such as clothes and caps. Their main priority is to guarantee customers' satisfaction and to expand their brand internationally.
Todak appointed Isadora & Associates as their lawyer panel recently to protect Todak's design of products by having their own trademarks registered. With patents and trademarks, other companies are unable to copy Todak's products and designs. Apart from that, Isadora & Associates is also involved in sales and marketing matters. Isadora & Associates have to make sure that retailers obey Todak's standard of procedure and marketing strategies.
In line with the Firm's aim to fulfill its obligations and mandate to provide efficient legal advisory services to the company as a whole, the firm wishes a prosperous growth and wealth to Todak especially with its notable enlargement in its structure, that until today encompasses the following;
Todak Culture Sdn Bhd
Todak Studios Sdn Bhd
Todak Fusion Sdn Bhd
Todak Academy (coming soon)
Denning Training
Denning Hall or Denning System Training is a comprehensive user-friendly Law Practice Management System that provides a course for professional legal development and training for recent and mid-career law graduates. That being the case, Isadora & Associates uses The Denning Law Office Suite (DLOS) that combines all aspects of Malaysian SME law practice and enables the firms' digital cataloguing to be systematically organized and coordinated. This course involves all staff of Isadora & Associates to programme betterment of required legal practice skills such as drafting, legal research and advocacy.
Denning Training has been proven to efficiently diminish staffing requirements and complications likewise help employees to keep clear of costly clerical mistakes. Thus, the workforce of Isadora & Associates are able to hone each and everyone's practice to new heights in the area of General Civil Litigation & Conveyancing, Intellectual Property, Corporate Agreements, Small Estate Claims, Power of Attorney, Syariah, Entertainment and Sports Law.